Ambulances and Engines
EJFR's primary, or 'first-out' fire engines are a trio of pumpers built in 2012 and 2013. The three identical engines are located at stations 1-1, 1-5 and 1-6. They were built by H&W of Hillsboro, OR.
The identical engines are Spartan Metro Star chassis on a short wheelbase—excellent for use in rural, winding roads and challenging terrain.
The pumpers have a maximum water-flow capacity of 1,500 gallons per minute and contain an internal 750 gallon tank.
Fire Stations
Station 1-1 (Staffed) 9193 Rhody Drive, Chimacum Washington
Engine 11
Tender 11
Medic 11
Aid 11
Brush 11
Investigation Task Force Truck
Engine 12
Aid 12
Antique Engine: 1955 Ford
Station 1-3 (Unstaffed) 50 Airport Road,  Jefferson County Municipal Airport
Engine 152
Tender 13
Air/Support Truck
Station 1-4 (Unstaffed) 3850 Cape George Rd.
Engine 13
Antique Engine: 1941 Chevrolet Pumper
Station 1-5 (Staffed) 35 Critter Lane. Port Townsend, Washington
Engine 15
Tender 15
Brush 15
Medic 17: Inter-facility transport unit
Aid 15
Marine 14 'Volunteer'
Utility 15
Station 1-6 (Staffed) 701 Harrison Street Port Townsend, Washington
Ladder 16
Engine 16
Medic 16
Aid 16
Utility 16
Marine Program
EJFR's marine program, headed up by Assistant Chief Brian Tracer, is responsible for an extensive geographical area including Port Townsend Bay, the Admiralty Inlet, the waters around Marrowstone Island and Naval Magazine Indian Island, Protection Island and the northern half of Discovery Bay.
Our Marine program consists of a highly trained team of rescue swimmers, operators and marine trained EMT's and Paramedics. East Jefferson is surrounded by frigid Pacific water on three sides and we have many boat assists, man overboard and aid calls on boats moored in our area. Our 33′ fire boat, Guardian, is moored in the Port of Port Townsend.
---
Marine 1-6 'GUARDIAN'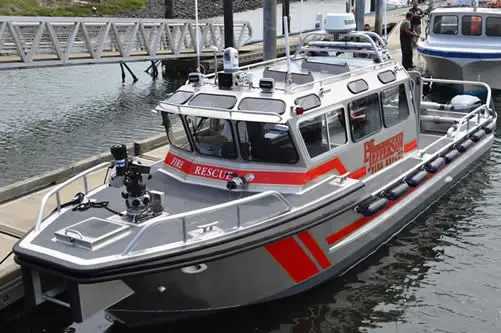 Marine 1-6
Marine 1-6, Guardian, was purchased in 2011 using a Department of Homeland Security Port Security grant. The boat uses a 330 HP Kodiak 5.7 engine to provide marine firefighting capability. The American Turbine Jet pump can achieve volumes of 1,250 gallons per minute at 125 PSI out of the bow-located Task Force Tips Hurricane fire monitor. It can also produce 3,000 gallons per minute at 50 PSI to feed a land-based fire engine with unlimited amounts of sea water in the event of a waterfront fire.
Through a unique diverter just aft of the pump engine, water can be diverted from the firefighting plumbing to an exit at the stern of the craft, providing forward thrust to achieve speeds of approximately 8 knots. This allows boat operators to turn off the outboards and safely maneuver to pick up victims in the water. The boat is equipped with a full electronics package, including a Forward-Looking Infrared Camera (FLIR) mounted on the roof. This improves operators' ability to locate vessels and people in the water in low-light conditions. Inside the cabin is a full-length patient casualty bench which allows treatment of patients while underway.
---
Marine 1-4 'VOLUNTEER'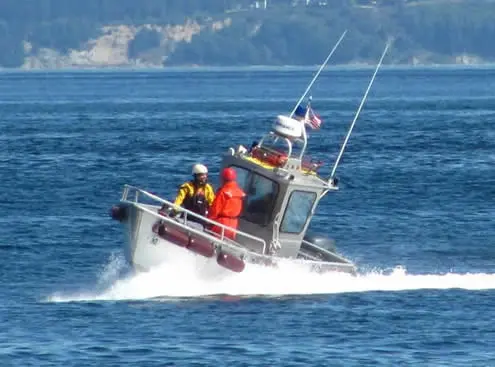 EJFR Marine 1-4, Volunteer, is a 22′ Lee Shore V-bottomed vessel built in 2001 and powered by a 150 HP outboard engine.