Beginnings
The Port Townsend Fire Department had its beginnings prior to the 1890s but its earliest official records date back to 1872. In 1890, The January 1 issue of The Morning Leader reported: "The contract has been let for a new engine house for the chemical [sic] engine and bell-tower on Tyler and Jefferson Streets. The bell tower will be 50 feet high, and it is presumed by the thinking part of the community that an electric light will be suspended from the lofty superstructure which being on the hill will shine to splendid advantage."
Key City (Enterprise) Hose Company No. 1 began operation in a wooden station house on the back of a downtown brewery between Madison and Monroe Streets. D. H. Hill was the first fire chief who, with his volunteer firefighters, responded to fires with a horse-drawn Silsby hose cart. Key City Hose Company No. 2 was established in 1892 and operated from an "uptown" residence at the corner of Garfield and Harrison Streets. George Lake was the "driver" of the station's hose cart that was hand-drawn by the volunteers. As many as ten men could pull the cart, and one man was quoted as saying that he "never run so fast in my life" as the time he helped pull the hose cart to a fire. A new City Hall was dedicated on July 4, 1892. Included as a part of the structure was a new fire station, complete with the traditional brass pole. The new station was equipped with an American steam fire engine. This apparatus was horse-drawn and capable of pumping 1,500 gallons of water per minute.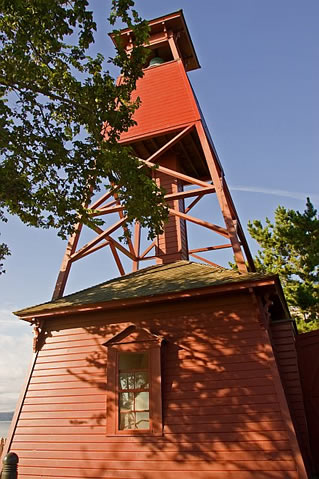 Bell Tower
At the suggestion of Chief Hill's son, N.D. Hill, a bell tower and station structure was slated to be built on the bluff at the intersection of Tyler and Jefferson Streets. The unique and dynamic structure (at the time it was built), could hardly have been considered "architecture," for the only condescension to fashion was the use of decorative brackets at the corners of the roof – but it was functional! The batter of the walls and superstructure gave a pyramidal profile to the tower. Though undoubtedly done as a bracing device to counteract the strong winds, it endowed the little tower with the structural honesty and engaging eccentricity far removed from the almost self-conscious, eclectically decorated, formal architecture of that era. This is the only bell tower of its kind in the United States today. Although no longer in service, it is nonetheless functional and still keeps watch over the city. Now, two annual tribute ceremonies consisting of a bell ringing at noon are conducted—one by East Jefferson Fire Rescue on September 11 to commemorate not only the loss of firefighters in the collapse of the Twin Towers in New York, but in memory of all firefighters who have lost their lives in the line of duty—and the other by Jefferson County Historical Society. Upon completion of the new fire station at City Hall in 1892, the Silsby hose cart was housed in the Bell Tower "station."
Fire Alarm System
In October of 1889, the American Telegraph Company was given authority to erect poles and string wires—the poles to be equipped with boxes containing signaling devices for the transmission of fire alarms. In 1889, improvements in the City's fire alarm system were made. This equipment shows the very early use of electricity in communication. One of the units, (along with the code wheel transmitter, two of the fire alarm boxes, a paper tape unit, a telephone alarm box unit and a circa-1940s original Kellog Co. street-side telephone alarm box) are currently on display at Station 1-6 on Lawrence and Harrison Streets, was granted a patent in 1868 and all equipment was designed prior to the invention of the electric motor, electric light, telephone or radio. At the time this equipment was developed, the only practical use of electricity was the telegraph, where the human hand used a telegraph key to send Morse code. Fire telegraphic alarms represent an early attempt to automate this process. Gamewell Co. "Excelsior" model street-side fire alarm boxes were installed at strategic public access locations throughout the city. By 1933, 21 such boxes were in service. Next to the box was a small case with a glass front. When a fire was detected, one would break the glass and remove a key to open the box wherein a small lever was pulled which, in turn, lifted an iron weight that furnished the energy to turn a number of gears. The gears turned a small cog with raised points acting as a telegraph key sending out a coded signal down the wire to the downtown firehouse. A Gamewell Co. "indicator unit" and "code-wheel transmitter" was also installed in the downtown firehouse. Once an alarm box signal was received, the indicator box used the signal in different ways—first to ring the attached 14-inch brass bell in a timed pattern and subsequently, this signal was decoded and the specific alarm box number was displayed clearly on the front of the indicator unit. Lastly, the decoded signal was sent to a "paper tape" unit to record the coded number. Firefighters, arriving at the fire hall after the bell had stopped, only had to look at the indicator, check the number and rush off to the location of the fire. The bell ringer unit was used to transmit to the Bell Tower the coded location of the pull-box alarm. One of the firefighters at the station would then select the number of times the bell ringer would cycle the coded signal i.e., one, two or three alarm fire and thus, the fire bell at the Bell Tower sounded the alarm all over town.
Early Growth
In 1916, the department had 25 volunteers who elected officers including a chief, a foreman, an assistant foreman and second assistant foreman. A resolution was passed that year which stated that "the elected department officers may hold their positions if called to France for active duty in the military." That same year, firefighters reviewed "smoke masks" sent by a fire equipment company on approval, but were later sent back after having been proven unsatisfactory. Later, two U.S. Army-issue smoke masks were purchased. In 1918, the department's truck committee reported that $547 had been saved and they discussed the costs of new fire trucks ranging from $1,830 to $2,390. In the summer of 1921, fire incident reporting began with specific orders to determine the cause of fires. In 1922, the fire chief ordered there be 12 drills per year and that firefighters would be paid 50 cents each for five drills. The foreman instructed firefighters to look after the parking of cars within 18 feet of fire hydrants and they were to prevent cars from driving over fire hose. In 1945, a new fire station was dedicated at the Lawrence and Harrison Streets location, not far from the original Hose Company No. 2 station. Staffing of the new station was by three paid, full-time firefighters until 1971, when a full-time chief and later a full-time assistant chief were hired from the ranks of the volunteer firefighter membership. Staffing remained constant until 1981 when the city added additional manpower, progressing up to nine line-personnel, two chief officers and a clerk dispatcher.
Jefferson County Fire Protection District No. 1
On March 3, 1948, the Jefferson County Board of Commissioners signed Resolution No. C-42 to form the first Jefferson County Fire Protection District (#1) enabling property tax monies to be levied and collected to support fire district operations. Jefferson County Fire Protection District No. 1 is a junior taxing district* of the State of Washington as authorized by RCW 52.02.020. The area originally protected was in the immediate Port Hadlock and Chimacum vicinities, with the annexations of Adelma Beach, North Sandy Shore, Marrowstone Island and a portion of the Eaglemount area south of Anderson Lake Road following through the years. In 2004, Fire District No. 1 was approached by Jefferson County Fire District No. 6 to discuss a possible consolidation/merger. The citizens were strongly in favor of a merger and 88.6 percent voted in favor of Proposition 1 in the November 2005 election. The city of Port Townsend consolidated with both Districts in January 2006 to bring the three formerly separate districts together as East Jefferson Fire Rescue.
The interlocal agreement for joint operation and management of fire services between Port Townsend and Jefferson County Fire District No. 1 (East Jefferson Fire Rescue); included a joint oversight board; term is for 3 years beginning January 1, 2006, and continued thereafter until 2019.
*A junior taxing district means a taxing district other than the state, a county, a county road district, a city, a town, a port district, or a public utility district.
Jefferson County Fire Protection District No. 6
According to Margaret Franzen, a member of the District Auxiliary and eventually District Secretary, Ed Wainwright was the person who initiated the action to form a local fire protection district. An article from the first Cape George newsletter in the fall of 1968 mentioned his hard work in trying to form a fire district from Chevy Chase to the Port Townsend city limits. Petitions were circulated and delivered, but apparently frustrations began to mount as the petitions were allegedly mislaid and found not be located. Years passed and in 1974, a new petition drive began. On April 7, 1975, the Jefferson County Fire Protection District No. 6 was established by popular vote—171-11. At that time, the first three fire commissioners were also elected: Ed Wainwright, Lee Stark and John Kanaar. At the first organizational meeting on May 8, 1975, Virgil See** was appointed Fire Chief and Margaret Franzen was appointed District Secretary. They both served without pay for five years. In 1975, the Cape George Colony Club leased a heavily wooded lot on County Road 40 to the new fire district for a period of fifty years at an annual rental of $1. Under the direction of construction coordinator Cliff Lamkey, volunteer workers began clearing the site in September of 1975. Despite an occasional blown transformer, innumerable cuts and bruises and broken fingernails, men and women, working together finally cleared the area. Because the district was formed after the county tax money had been budgeted, the commissioners had to take out a $10,000 coupon warrant and depend on monetary gifts the first year. Everyone contributed time, labor and money. Unfortunately, there are few records of those donations. The work on the new fire station began in May and continued through August of 1976. The Board of Commissioners held their first meeting in the new fire hall on Nov. 6, 1976. The new district soon had 26 volunteers (seven left fairly soon leaving 19 volunteers). The volunteers were mainly young men with families who had fulltime jobs. Then, as now, the commitment made by the men and women volunteers who gave up their spare time for training classes and drills and response to fire and aid calls is recognized as a great contribution to everyone in the community. By 1979, two modest substations had been completed to provide a more rapid response with equipment to all areas of the district. One of the stations was located on Jacob Miller Road and the other at the entrance to the airport. Additional pumpers and tanker trucks were also acquired. By the spring of 1986, it became apparent that the district needed an addition to the Cape George fire hall. On May 9, 1987, a two-level addition was dedicated to the memory of Ed Wainwright who had passed away. Arne Carlson carved the wooden sign "Wainwright Hall," and donated it to the new addition.
**Virgil See passed away on Dec. 20, 2007.
The next big change didn't come until 1999 when Station 62 (now known as the Henry Miller Station or Station 1-5, photo left) was built on Jacob Miller Road next to the solid waste transfer station.
Margaret Franzen wrote that many people helped to shape the district over the years. While not everyone was named, Ms. Franzen noted that Virgil See retired as chief in 1991 after serving for 16 years. Bob Larson became the next chief and served for approximately 10 years before retiring.
Margaret Franzen retired in 1985 and was succeeded by Kathy Johnson who served until 1988. Doris Fuller was then appointed and served the district until 2000 when she retired. The Fire District Auxiliary was a big support for the fire district. Started by some of the same women who helped clear the brush from the first building site, the auxiliary endured for 20 years. Presidents of the auxiliary over the years included Gloria Barnard, Jackie Tripp, Mona Caraugh, Marge Denne, Eva Burnham and Margaret Franzen. The Auxiliary provided critical support for the budding agency through fundraising for firefighting equipment, purchasing turnouts, radios, medical equipment and various other items for the volunteers. Bazaars, spaghetti dinners, raffles and bingo were some of the events sponsored by the group. Over the years, the Auxiliary raised $72,000 for the district.
History of Emergency Medical Services
Early accounts for consideration of emergency medical services date back to the summer of 1918 when an ambulance fund was established for contribution to the Seattle Fire Department ambulance fund. The advent of a structured public emergency medical service in the city of Port Townsend had its formal beginning in the late 1970s within the fire department by providing initial emergency response with an engine company using a resuscitator for heart attacks and cardio-pulmonary resuscitation needs. Firefighters and police officers were trained in first aid and CPR.
Actual patient transport was conducted by a private ambulance service operated from Carroll's Mortuary using a hearse. Cascade Ambulance Company was formed by three firefighters in 1960 after refurbishing a 1958 Cadillac ambulance resurrected from a wrecking yard. The ambulance company changed ownership a few times until 1970 when it closed. Olympic Ambulance Service stationed an ambulance in Port Townsend shortly thereafter with little success. Homer Smith Insurance Agency of Port Townsend donated a van-style used ambulance to the city in 1980. By then, the fire department lieutenants had been formally trained and certified by the state as emergency medical technicians. In the following years, new firefighter hires were required to be certified emergency medical technicians as well as firefighters.
The city entered into contract with two county fire agencies—District No. 1 and No. 6—to provide ambulance transport service to the local hospital since there were no other ambulances available for county transport.
Jefferson General Hospital had an emergency room but arriving emergency medical technicians would present their patient/s to hospital floor nurses who would not be able to provide definitive care and treatment until the on-duty doctor arrived from the local clinic or from home. It was not until 1988 that the hospital added a new emergency wing, staffing the department with full-time nurses and physicians and becoming licensed as a Level IV trauma care facility. Emergency medical services delivery as a formal function of the Port Townsend Fire Department was now following the national trend of primary service being provided by fire departments.
The department bought its first ambulance (new, Type III) in 1981 and a second ambulance in 1982; in 1991 and 1997 respectively, diesel-powered replacement ambulances were purchased, and the 1980s models were placed in reserve status. In 1990, the city hired its first paramedic firefighter to provide advanced life support medical services for its citizens. Five additional hires in years following provided at least one paramedic on duty at all times. As with most, if not all fire districts, Jefferson County Fire Protection District No. 1 started out as an entirely volunteer agency, hiring its first full-time firefighter/EMT in August of 1996. Dubbed the Medic 13 program, (representing District No.1 and their partner, Port Ludlow's District No. 3), during the first five months of its existence, per diem paramedic personnel were utilized, followed by the hiring of three full-time firefighter/paramedics in November of 1997.
In December of 1997, District No. 1 hired its first full-time fire chief, and in October of 1998, a second full-time firefighter/EMT was hired followed by a third in August of 1999. In 2000, the citizens voted for a perpetual tax levy dedicated to the delivery of emergency medical services by the fire department. Calls for service rose steadily from 470 total alarms in 1983 to 1,337 alarms in 1999 (of which 1,070 were medical calls). In 2007, East Jefferson Fire Rescue responded to 3,079. In 2013, EJFR was toned for 3,616 total calls.
In August of 2007, a contract for inter-facilities transport between East Jefferson Fire Rescue and Jefferson Healthcare was signed by both parties. In 2006, prior to signing an official agreement, EJFR logged 1,450 transports. In 2007, that number jumped to 1,698. In May of 2008, the district hired Assistant Chief Gordon Pomeroy to head up the EMS program.
East Jefferson Fire Rescue Today
In early 2019 Jefferson County FPD #1 Annexed the City of Port Townsend to the Fire District after nearly ten years of providing Fire and Life Safety services to the City residents via Interlocal Agreement.
Later in 2019 the residents of the district voted to expand the Board of Commissioners from three to five and create five Commissioner Districts.
Today, April 2020, EJFR employs 47 paid staff, 28 volunteers and 7 resident volunteers. The District is equipped with six engines, one ladder truck, two water tenders, seven ambulances, one inter-facility transport ambulance, two utility vehicles, two brush trucks, two marine units, one technical rescue trailer and five staff vehicles.
Contributing writers: Tom Aumock, Chuck Boggs and Margaret Franzen. Compiled by former EJFR PIO Keppie Keplinger.