Covid at-home tests are available for order online
https://www.sayyescovidhometest.org/
EJFR is here for You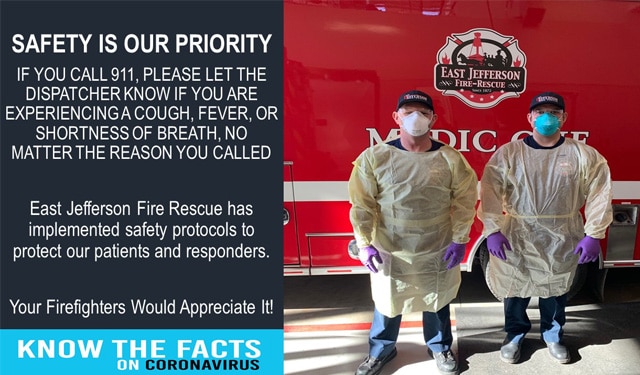 In order to help slow the spread of COVID-19 and to meet the recent Washington State Executive Order, East Jefferson Fire Rescue facilities are temporarily closed to public access until further notice. For non-emergency business call (360) 385-2626. We strive to respond to voicemail within one business day and most inquiries are answered immediately. You may also contact our department via email: info@ejfr.org. Please note that the administrative phone number, (360) 385-2626 is not for emergencies and is monitored during business hours only. Call 911 for all emergencies and potential emergencies.
All EJFR Administrative business can be arranged via email or appointment, including acquiring a burn permit.
Responding to Emergency 911 Calls will remain unchanged!
EJFR is actively working with partner agencies on planning and response to the COVID-19 (Coronavirus) pandemic. The lead agency in the local area is the Jefferson County Department of Public Health. Please visit the following websites for the most up to date information.
Jefferson County Department of Public Health